Kitchen Cabinet Services
Welcome to our world of exquisite kitchen cabinet transformations. Get ready to embark on a journey where style, functionality, and creativity converge, resulting in a kitchen that's a feast for the eyes and a joy to work in. Our team of skilled artisans and design enthusiasts is dedicated to breathing new life into your kitchen cabinets, turning them into captivating focal points that exude elegance and personality.
Cabinet Painting: Infuse your kitchen with a splash of color or create a harmonious palette with our exceptional cabinet painting services. Discover the power of hues to set the mood and express your unique style.

Cabinet Refinishing: Uncover the hidden potential of your cabinets through meticulous refinishing techniques. Experience the magic of restoring their original beauty or exploring new finishes that reflect your vision.

Cabinet Refacing: Elevate your kitchen's aesthetics without a full renovation. Our cabinet refacing experts will artfully replace doors and drawer fronts, instantly rejuvenating your space.

Hardware Selection: Elevate every detail with our curated collection of cabinet hardware. Discover an array of knobs, handles, and hinges that add a touch of sophistication and finesse to your kitchen.

Masterful Cabinet Repair: From minor fixes to major transformations, our craftsmen possess the skill to repair and revive your cabinets, ensuring they stand strong and resilient.
Ready to transform your kitchen cabinets?
Take the first step towards a stunning upgrade by filling out our form for a free quote. Let us bring your vision to life with our expert craftsmanship and attention to detail.
Factors Affecting Kitchen Cabinet Repainting Costs
Cabinet Material: Different cabinet materials require specific preparation and painting techniques. Factors such as wood type, veneer, or laminate can influence the complexity and cost of the repainting process.

Cabinet Condition: The existing condition of your cabinets plays a role in determining the amount of preparation work needed. Cabinets with extensive damage, such as deep scratches or peeling surfaces, may require more intensive repairs before repainting.

Cabinet Size and Complexity: The size and intricacy of your cabinets can affect the time and effort required for repainting. Cabinets with multiple doors, drawers, or intricate detailing may require additional labor and attention to ensure a flawless finish.

Number of Layers: If your cabinets have been previously painted or stained, the number of layers to be removed or covered can impact the overall cost and time required for repainting. Thicker or multiple layers may require additional surface preparation and primer coats.

Color Selection: The choice of paint color or finish can influence the cost of repainting. Custom colors or specialized finishes may require additional steps or materials, affecting the overall project cost.

Additional Services: If you opt for additional services such as cabinet refinishing, refacing, or hardware replacement, these can impact the overall cost and timeline of the project.

Kitchen Access and Preparation: The accessibility of your kitchen and the level of preparation required, such as removing items from cabinets and protecting surrounding areas, can influence the labor and time needed for the repainting process.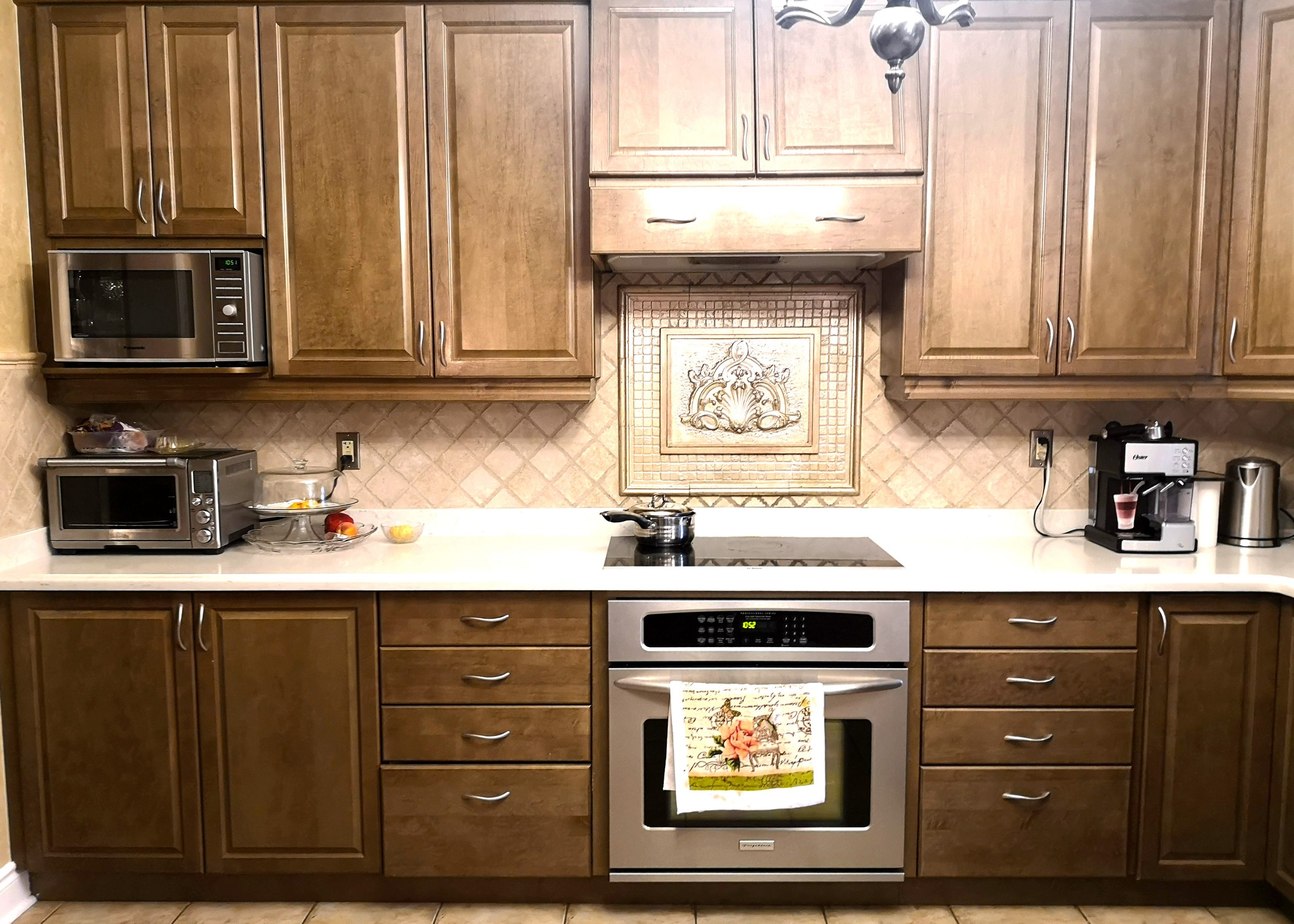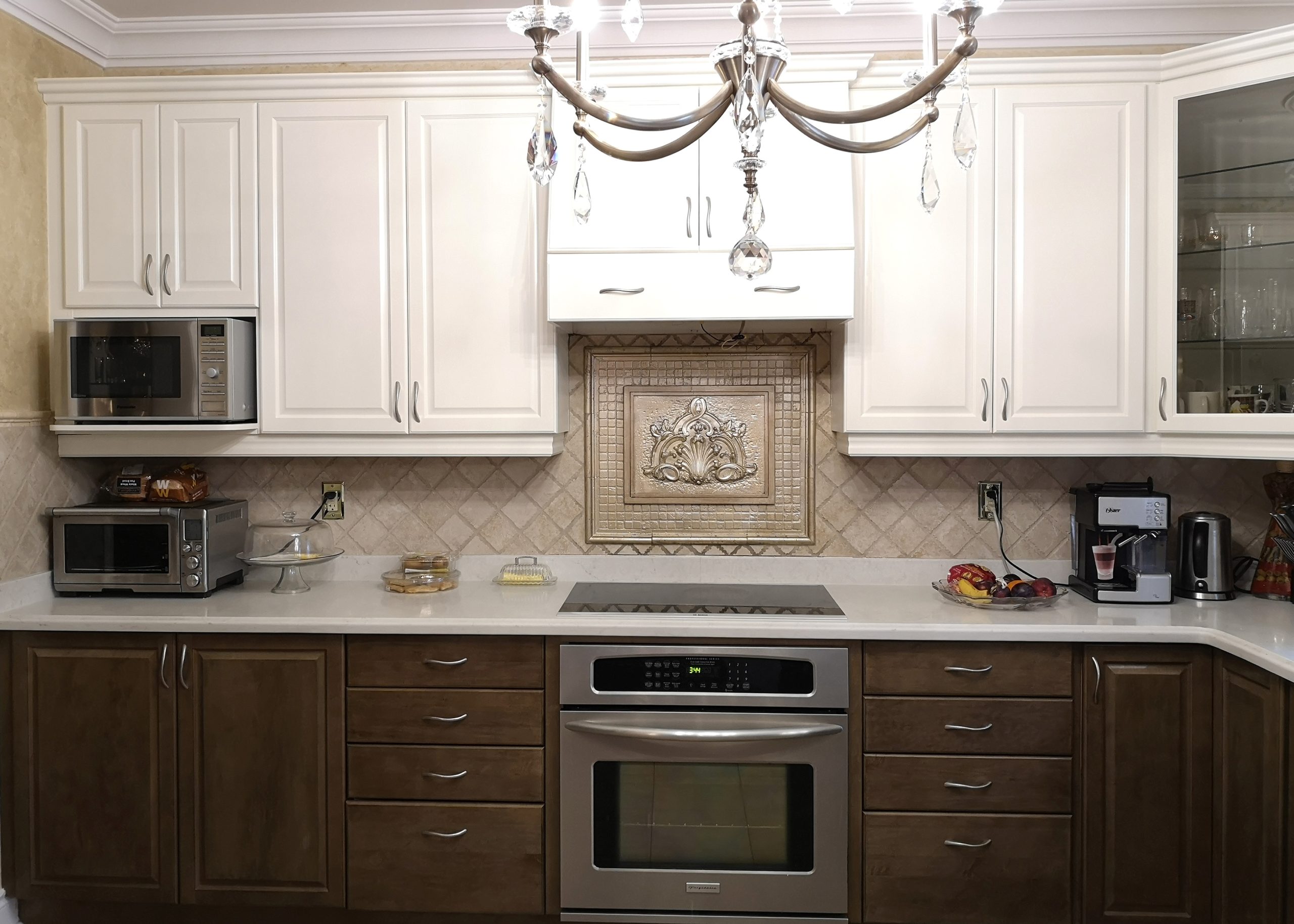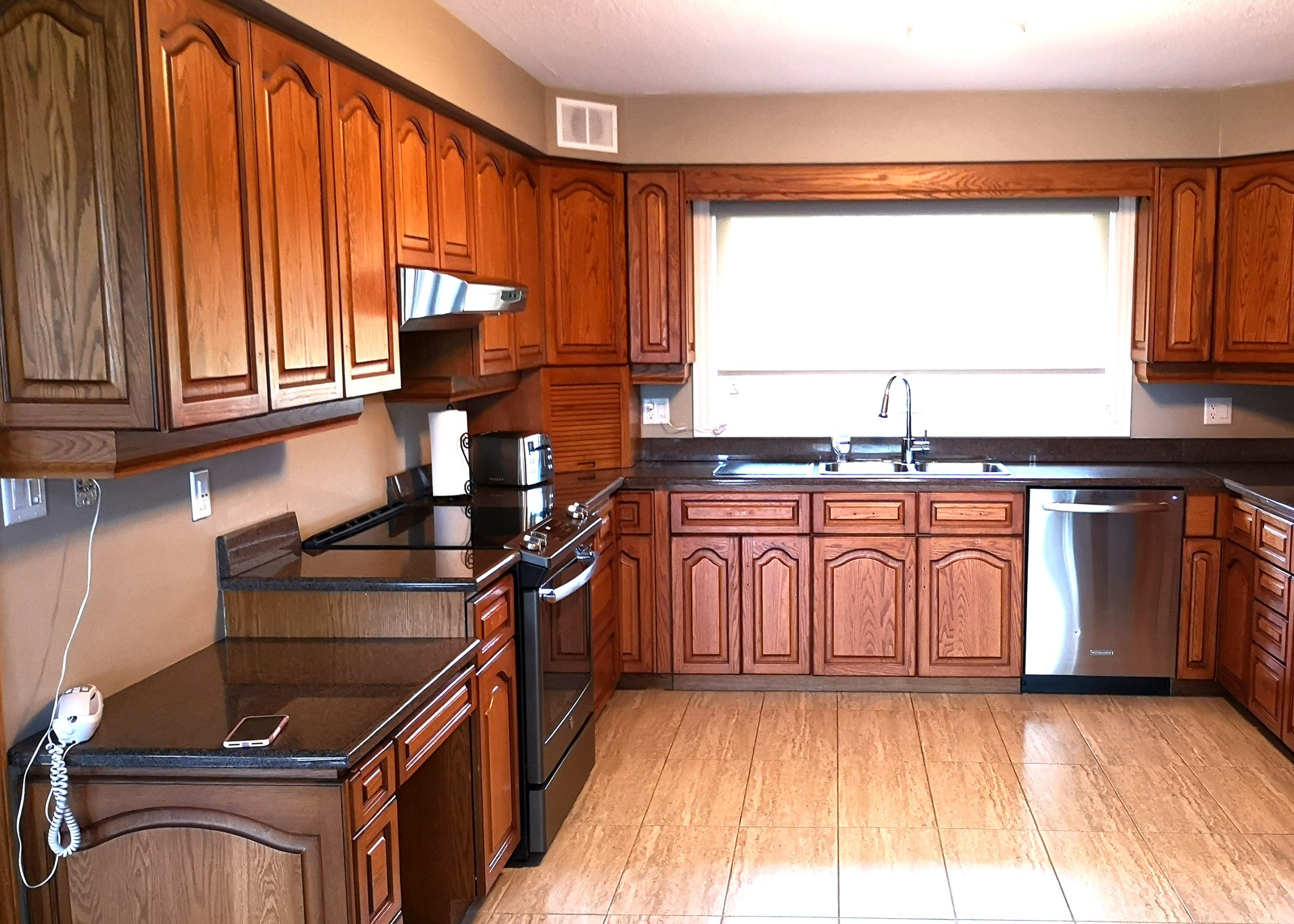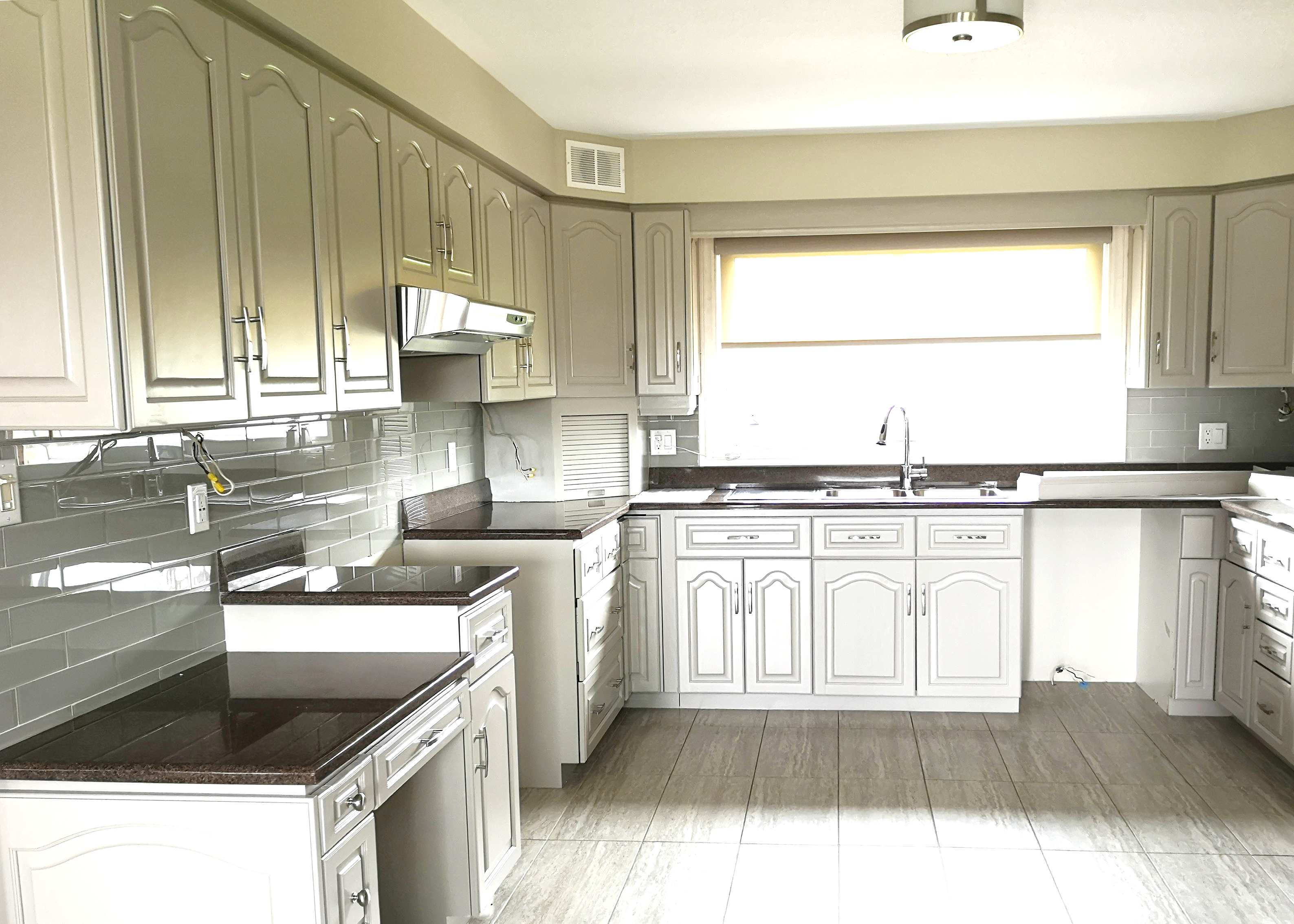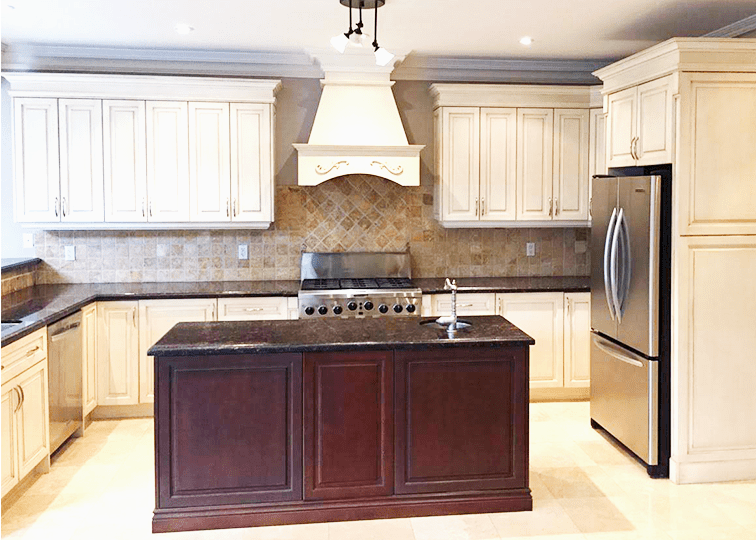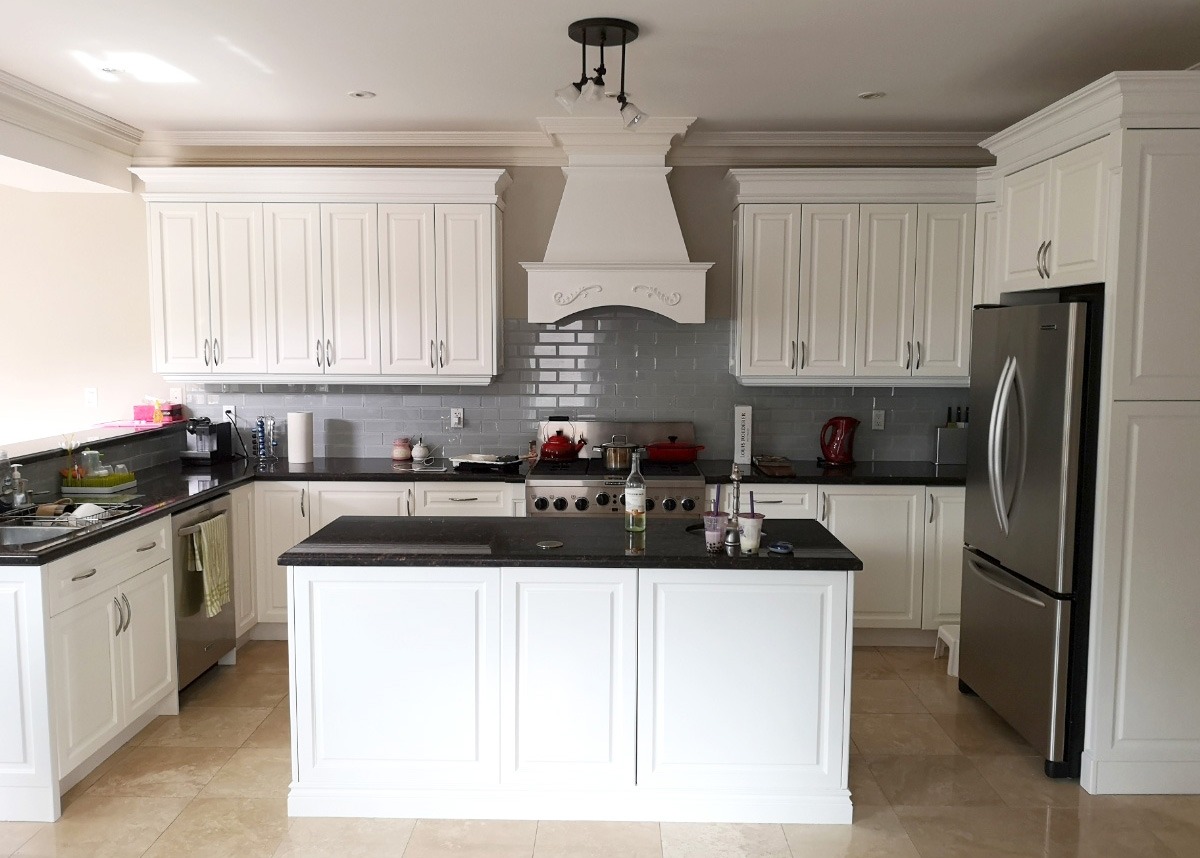 Our Process
is how we stand apart from the rest.
Cabinet Preparation
Remove all cabinet doors and drawers, including hardware, and carefully label each cabinet and door/drawer with a numerical system for easy reassembly.
Surface Cleaning
Thoroughly wipe the cabinet structure, doors, and drawers with paint thinner to remove any dirt or residue. Ensure they are completely dry before proceeding.
Masking & Protection
Cover and mask off areas that should not be painted, including floors, countertops, and appliances. If needed, create a barrier with plastic to close off the kitchen area.
Repair & Preparation
Inspect the cabinet surfaces for imperfections and fill any holes or gaps with putty or caulk. Ensure a smooth and seamless finish before proceeding.
Primer Application
Using a spray painting technique, apply an oil-based primer to the cabinet doors and drawers. Lay them down flat for optimal coverage, preventing runs and ensuring a thicker application.
Sanding & Finishing
After the primer coat has dried, lightly sand the surfaces with medium-grit sandpaper. Remove any dust and wipe down the cabinets, doors, and drawers before applying the final finish coats.
Precise Installation
Ensure a meticulous installation by handling the cabinet doors and drawers with care, using white gloves if necessary. This minimizes the risk of any accidental hits, fingerprints, or scuffs during the reassembly process.
100% Satisfaction
Your satisfaction is our top priority. We'll walk through the completed project with you, addressing any questions or concerns. We won't consider the job finished until you are 100% satisfied with the results.
These process steps ensure a systematic and detailed approach to achieve a professional and flawless kitchen cabinet repainting. If desired, additional steps or services may be deemed necessary based on the specific requirements of your project.
Trusted House Painters in Chaplin Estate: Transforming Homes Gallery

CAbinet Refinishing

,

CAbinet Repainting

,

Cabinet Respraying

,

Ceiling Defect

,

Ceiling Repair

,

Cracks and holes

,

Door Restoration

,

Exterior

,

Home Painter

,

Homeowners' Manual

,

Interior

,

Interior Painting

,

Kitchen Cabinet

,

Spray Painting

,

Staircase Painting

,

Staircase Restoration

,

Staircase Staining

,

Wood Protection
Nestled in the heart of Toronto, Chaplin Estates stands [...]
Are you torn between remodelling your kitchen cabinets but [...]
The kitchen, often referred to as the heart of [...]